Celebrate Recovery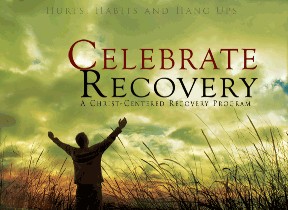 Celebrate Recovery meets on Tuesdays 7:00 -9:00PM Please use entrance "C."
CR is a group that is inclusive to everyone. Members of Calvary, members of other churches, and first time guests or visitors are all invited to discover the healing powers and freedom of living in Christ.
What is Celebrate Recovery?
Celebrate Recovery is a Christ-Centered recovery program designed to help people address a variety of Hurts, Habits, and Hang-ups through worship, teaching, personal recovery experiences, and small group interaction.
What is the purpose of Celebrate Recovery?
The purpose of CR is to celebrate God's healing power in our lives through the Twelve Steps and Eight Recovery Principles. By working and applying these Biblical principles, we begin to grow spiritually. We become free from our addictive, compulsive and dysfunctional behaviors. This freedom creates peace, serenity, joy and most importantly, a stronger personal relationship with God and others.
CR provides a "Safe Place" for real life change in Jesus Christ. As participants personally work through biblically-based steps in the context of the Christian community, we recognize the truth that we need each other to grow personally and spiritually. This is a place where we can fully become who God created us to be.
Things We ARE
Things We ARE NOT
A safe place to share
A place for selfish control
A refuge
A place for therapy
A place of belonging
A place for secrets
A place to care for others and to be cared for
A place to look for dating relationships
A place where respect is given to each member
A place to rescue or be rescued by others
A place for confidentiality
A place for perfection
A place to learn
A place to judge others
A place to grow and become strong again
A quick fix
A place where you can take off your mask
A place for healthy challenges and healthy risks
A possible turning point in your life