Our Distinctives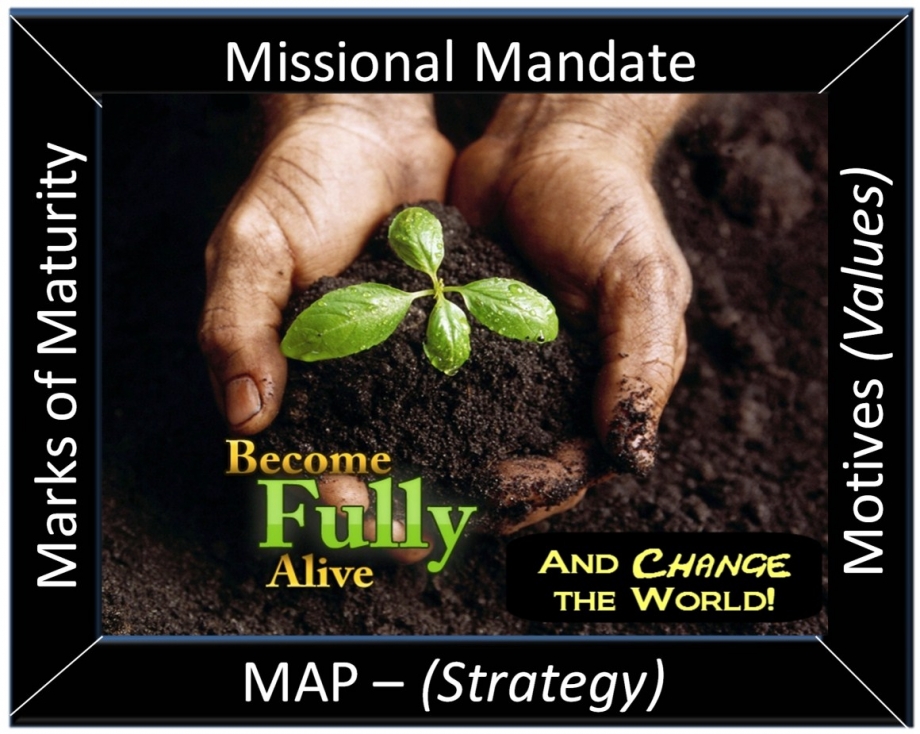 The graphic above illustrates the four "Distinctives" that make Calvary unique. We think of these four distinctives as the four sides of a picture frame. When all four distinctives (sides) are present, the frame holds a beautiful picture of a preferable future - our vision that the people of Calvary would "become fully alive and change the world!" If any of the distinctives are missing, the picture frame is compromised, and that preferable picture of the future is suddenly in doubt.
Distinctive 1: Our Missional Mandate
Everything that we do is driven by the "one thing" that we believe God has called us to do...
"To Help People Fully Become Who God Created Them to Be!"
Distinctive 2: Our Map
A map tells you how to get to where you want to go. It helps you form a "strategy" to go from "where you are now" to "where you'd like to be." We've developed a "spiritual map," of sorts, that provides us with a 3-step strategy to get from "where we are" to "where we want to be" in our spiritual lives. Any person, no matter where they are in life, can "fully become who God created them to be" by doing these three things over and over and over again. These 3-step strategy is actually reflected visually in the three icons of our logo...

SEEK God with all your heart, soul, mind, and strength.

SERVE God & man by living beyond yourself.

SHARE your life with others in meaningful friendships.
Distinctive 3: The Marks of Maturity
A person who is 'fully becoming who God created them to be' will demonstrate these qualities...
Deepening in our walk with God.
Glorifying God with our entire lives.
Thriving in life - relationally, spiritually, emotionally, physically.
Giving generously of my time, talent, & treasure.
Prioritizing my life around the things that truly matter to God.
Connecting in meaningful ways with others.
Impacting my environments in positive ways.
Reproducing the work that God has done in me thru others.
Distinctive 4: Our Motives for Ministry
These are the qualities that must be present in our 'faith family' as a whole if we are to succeed in our mission & see our vision become a reality.
Empowering Leadership - leaders equip & release others to serve.
Passionate Spirituality - there is vibrancy & vitality in our spiritual walk.
Loving Relationships - extravagant love is present and freely expressed.
Inspiring Worship - our worship gatherings truly inspire and fuel our journey.
Need Oriented Evangelism - we serve people & earn the right to speak.
Gift Based Ministry - people serve primarily in their areas of giftedness.
Holistic Small Groups - all groups strive to Seek, Serve, & Share together.
Functional Structures - intentionality marks everything we do.